Who We Are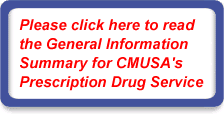 Since December, 2001, Canadian Meds USA (CMUSA) has been providing consistent quality and reliable customer service. CMUSA's staff is experienced, knowledgeable and highly trained, including our dedicated CMUSA Customer Service Representatives at TCDS to help expedite answers and resolve customer inquiries.
Our pledge to our customers:
Safety First
Consistent Quality
Real Savings
Outstanding Customer Service
We help our customers get great prices on safe, high quality prescription drugs from sources you can trust. These are countries that regulate prescription drugs and apply strict standards regarding content, quality, and handling.
We treat our customers with honesty, integrity and adhere to the highest ethical standards. [For example, if we can't save you money on a drug, compared to the U.S. price, we'll let you know that.] There are no hidden fees, taxes or other hidden charges.
At Canadian Meds USA, our only business is helping Americans save money on safe, high quality prescription drugs from the best and safest sources. Everything we do revolves around our total commitment to customer service.